Special Memory Loss Program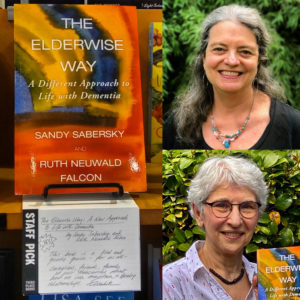 A conversation with the authors of
The Elderwise Way: A Different Approach to Life with Dementia
Thursday, February 25, 1 – 2 PM
Click here to register for this free event.  

There's no denying that the loss of one's cognitive abilities is a profound one. Yet, even with such difficult loss, people can still be provided with opportunities to open their hearts and their spirits.
Authors Sandy Sabersky, Elderwise visionary and co-founder, and Ruth Neuwald Falcon will discuss attitudes and approaches that provide real ways for persons with cognitive change—and those who interact with them—to have deep and meaningful relationships. There will also be time to ask questions of the authors.
A special program presented in partnership by NWCCA, The King County Library System and The Seattle Public Library. You will be emailed a link no later than two hours before the program start time. If you do not see an email, check your Junk or Spam folder.
Virtual Offerings in the Larger Community
February Author Voices
Offered by King County Library System
Registration required. Click on each title for the link.
Debut Author Book Chat: Exciting Times by Naoise Dolan
Saturday, February 20, 11 – 12:30 PM


In stylish, uncluttered prose, Naoise Dolan dissects the personal and financial transactions that make up a life—and announces herself as a singular new voice.
Grief in the Time of COVID-19
Friday, February 19, 11 AM – 12:30 PM, Offered free by Greenwood Senior Center

The COVID-19 pandemic has impacted everyone's life in countless ways; social isolation, loss of daily routine, fear of the future, and, for many, loss due to death. It is important during this time to acknowledge these losses and to find healthy ways to manage our individual and collective grief.
Join Wendi J. Sargent, LMHC, of Providence Hospice of Seattle's Grief Support Services for a presentation and discussion about grief during COVID-19 that will provide some tangible strategies for coping in this challenging time.
Email Ariel to register & receive Zoom link.

Survival Tips in Times of Stress
Neighborhood Leadership Gathering
Thursday, February 25, 6:30 – 8 PM

Whether it is stress in the workplace, managing remote learning for children, adapting to a virtual world or just maintaining human connections, Robin Rose will help participants understand their emotional responses, and come away with practical tools they can put to use right away. Rose teaches a rare and scientific approach that teaches people how their brains work, so they can think, act and communicate at their highest proficiency. She translates brain science into practical and useable information and skills.
RSVP to 425-452-6836 or neighborhoodoutreach@bellevuewa.gov. Click here to learn more. 

ESML Art Appreciation Group
2nd & 4th Thursdays through March 25, 1 – 2 PM
Offered by Greenwood Senior Center

Our favorite museums may be closed, but we can still enjoy great art together. This one-hour program will include viewings of classic and contemporary works of visual art along with guided discussion, all in a relaxed supportive setting. Suitable for folks with mild cognitive impairment and early stage memory loss. .
Email Katie to register.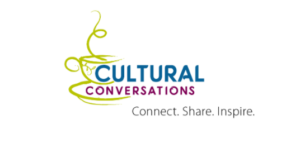 Cultural Conversations: Six Word Stories
"From the Heart: Community, Pandemic, Justice"
An event for women: Tuesday, February 16, 1 – 2:30 PM
Offered free by The City of Bellevue

Participants will be invited (but not required) to take on a creative challenge: tell your story of 2020 or hopes for 2021 in only six words, inspired by the inspired by the Six Word Memoirs global phenomenon.
Leading the sharing is Yvonne Adagala, long-time Cultural Conversations collaborator and community leader who is passionate about storytelling, the role it plays in our lives and the impact that it has on social change.
Register here for Zoom Link. For more information or accommodation needs, email or call, 452-452-6836.
Experience Elderwise Virtually

A supported, therapeutic and enriching experience with art, movement, music and meaningful conversation.. 
Join MiniWise Gatherings Any Time! 
Mondays, 11 AM – Noon
An hour of conversation, laughter, support, movement, and community. Find support with others who share a similar situation while learning The Elderwise Way through modeling. Donations gladly accepted but not required.
ArtWise 
Wednesdays, 2:30 – 3:30 PM
A new 6-week series starts on Wednesday, February 24
A different theme every week. Play with projects including watercolor, mandalas and collage while sharing your creations with one another. One-time art supply fee. Each virtual session is $20 for both participant and caregiver, with a maximum of 7 couples.
To register or for more information, please email Nancy Lang. People living with memory loss and their care partners are invited to participate.
Cinema at the End of Life
Thursday, March 4, 12:15 – 1:15 PM, Offered by City of Hope

The next installment in the City of Hope End-of-Life Symposium Webinar Series. The movie Here Awhile, written by Dr. Csaba Mera, will be discussed during this session. If you would like to view Here Awhile prior to the session, you may view it on Amazon Prime, iTunes, AppleTV, and Vudu. Click here to register and learn more about this free event. 
The Gathering Place Online
A virtual early stage memory loss enrichment program
Tuesdays, 1 – 3 PM

A weekly virtual enrichment program for people with mild cognitive impairment (MCI) or early stage memory loss (ESML). Not a drop-in group but rather an ongoing commitment and is limited to 8 participants. The cost is $20 per session and scholarships are available. 
For more information, email or call Carin Mack, MSW, 206-230-0166. Click here for a flyer about additional Greenwood Senior Center Virtual Support Groups.
Wallingford Senior Center Virtual Activities
All classes must be registered through these links:
Email with questions and to find about additional classes.
Virtual NEST Events Open to the Public
Northeast Seattle Together (NEST) is a non-profit grassroots community based on the national "virtual village model." They have an extensive list of local and national resources.
Moving with Greater Ease: Feldenkrais
Tuesdays (chair) & Wednesdays (floor), 11 AM – Noon
Gail Thompson and Deonne Poston, use the Feldenkrais Method (both teachers) and Bones for Life (Deonne) of gentle movements to help students function with increased comfort, flexibility, and balance. No experience needed. Wear warm, comfortable clothing and have a mat or blanket. Click here to join.


Mind, Body, Spirit, Healing Community: Qigong
Thursdays, Noon – 1 PM
Quiet the mind, experience a grounded and centered state using focused intent, breath, and body postures. To join, click here and enter this meeting passcode: 015290.

For more, download the NEST newsletter here.
Age Friendly Seattle: Close to Home
Stories of Health, Tech and Resilience
First Thursday of each month, 10:30 – 11:30 AM

This monthly event is streamed and recorded live via Microsoft Teams (log-in not required) and archived on Aging King County's YouTube channel. Click here to visit the Age Friendly Seattle site.
Seattle Public Library Arts Access
Two free services for streaming videos available: Kanopy and Access
All you need is a library card. You can get one now, for digital access, at spl.org. On Kanopy you can stream 5 free programs a month. And Access is unlimited streaming.
Seattle Public Library's Lit Line
Call to have a poem, short story or historic news item read to you
If you dial the SPL Lit Line at 206-386-4656, any time, you can select to hear a poem or short story (in English or Spanish), or a historic Seattle news item, read by an SPL staffer.
Visit their website or read about it in the Seattle Times.

Humanities Washington Programs

Humanities Washington and its partners create spaces for people to come together to explore and consider what it means to be human, and to reflect on our shared past, present, and future. They hold events and programs led by cultural experts, scholars, and storytellers, who discuss everything from Washington State history to philosophy to current social issues. Click here for their calendar and to learn more.
#ReadIndieForward
A pay-it-forward campaign to support indie bookstores & share the joys of reading

Like a chain letter for books, #ReadIndieForward, launched by Shelf Awareness and Sourcebooks, encourages readers to buy one book a week from indies for as many as eight to 10 weeks, send those books to family and friends, ask recipients to pay it forward with their friends and families—and mention the gift and bookstore on social media. 
Readers can purchase books directly from their favorite independent bookstore, indiebound.org or Bookshop.org, which has a special page for #ReadIndieForward.