Virtual Offerings with Rebecca Crichton
Interesting Conversations: Misha Berson on Holiday Movies
Wednesday, December 9, 7 – 8 PM
Click here for the Zoom link.
Freelance arts critic Misha Berson shares some of her favorite holiday movies. She will also comment on a few you might want to miss, and let you know about others not to resist if you need a laugh! Come with your own recommendations in mind to share with others..
The theater critic for the Seattle Times for 25 years, Misha continues to write for the Times and other local and national publications. Author of several books, including Something's Coming, Something Good: West Side Story and the American Imagination, she currently teaches at Osher Lifelong Learning Institute at UW and other programs in Seattle.
Rebecca's Kitchen: "Cordially" Yours
Monday, December 14, 2 – 3 PM
Click here for the Zoom link.
Suggested contribution $5 – $15.
Payment not required to attend. Please visit the Donate page on our website to make a contribution.
This holiday season, with diminished plans for shared meal and holiday gatherings, we'll explore cordials and liqueurs, and shrubs—also known as Sipping Vinegars. They can be alcoholic or booze-free, and are easy to make, pretty to package and a delight to use.
Once you know how these go together, you'll want to make these year round as each season offers its fruits. This is a category of food gift that keeps on giving through the year!
Letting us know via email that you're planning to attend appreciated but not required!    
Virtual Offerings in the Larger Community

Humanities Washington Programs

Humanities Washington and its partners create spaces for people to come together to explore and consider what it means to be human, and to reflect on our shared past, present, and future. They hold events and programs led by cultural experts, scholars, and storytellers, who discuss everything from Washington State history to philosophy to current social issues. Click here for their December calendar and to learn more.
December Author Voices
Offered by King County Library System
Registration required. Click on each title for the link.

Pots and Plans Nutrition and Cooking Class
Offered Free by the Chicken Soup Brigade and Greenwood Senior Center
Tuesdays, December 1, 8 & 15, 1 – 2 PM

Seniors (55+) will learn how to prepare easy, nutritious, affordable, and tasty foods at home, and also how to make healthy choices to manage common health concerns. Each class will present an interactive recipe demonstration with nutritional education, and includes a free grocery bag containing the recipe ingredients. Register here or email Ariel.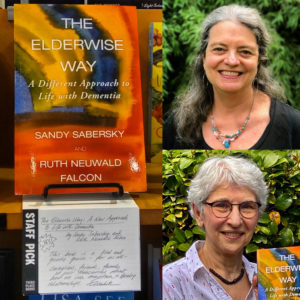 The Elderwise Way: Book Talk and Discussion
Wednesday, December 2, 1 – 2:30 PM
Offered free by  Greenwood Senior Center

Sandy Sabersky, Elderwise visionary and co-founder, and Ruth Neuwald Falcon have together written a deeply insightful book to inspire change in how our society understands and works with people living with dementia—which, during this time of the COVID pandemic, is more crucial than ever. The focus of their conversation with Geriatric Social Worker Carin Mack will be the Elderwise philosophy and caregiver tips.  
Click here for the link to this free event. 
Experience Elderwise Virtually

A supported, therapeutic and enriching experience with art, movement, music and meaningful conversation—all while forming a close-knit community with caring connections. 
Each virtual session is $20 for both participant and caregiver and led by two trained facilitators, with a maximum attendance of 7 couples. People living with memory loss and their care partners are invited to participate.
Join MiniWise Gatherings Any Time: Mondays, 11 AM – Noon
A weekly hour of conversation, laughter, support, movement and community. Find support with others who share a similar situation while learning The Elderwise Way through modeling. To see if this group is for you, the first visit is free.
ArtWise: Wednesdays, 3 – 4 PM
Featuring a different theme every week. Play with projects including watercolor, mandalas and collage while sharing your creations with one another. Art supplies will be provided for a one-time supply fee.
To register or for more information, please email Nancy Lang.
Wisdom Cafés
Offered by King County Library System
Wisdom Cafés invite groups of older adults to engage in intentional dialogues led by trained facilitators. Registration required. Click on the titles.
Age Friendly Seattle: Close to Home
Stories of Health, Tech and Resilience
Sorting Fact from Fiction: Finding Truth in an Infodemic
with Doug Shadel, State Director, AARP Washington, and Jevin West, Associate Professor, UW Center for an Informed Public
Thursday, December 3, 10:30 AM

Learn how to spot misinformation and scams, where to go for the facts behind the claims, and what you can do to better navigate today's information overload. Streamed and recorded live via Microsoft Teams (log-in not required) and archived on Aging King County's YouTube channel. Click here to visit the Age Friendly Seattle site.
40th Annual Winter Festival & Crafts Fair — The Virtual Experience
Friday, December 4 – Sunday, December 6
Offered by Greenwood Senior Center

Support your favorite vendors—and some new ones too—at this curated show!
Click here for the link to the event when it goes live.
How to Celebrate Holidays Safely in a Pandemic
Monday, December 7, 1 – 2 PM
King County Public Health presentation
Offered by Greenwood Senior Center

Tips on how to safely handle the Holidays, including ways to mitigate risks, combat feelings of isolation and depression that naturally come from having a quarantined holiday season, and suggestions for lower risk celebration activities.
Email Ariel to register for this free event.
Tributes, Stories & Song
A celebratory virtual fundraiser benefiting Compassion & Choices
Tuesday, December 8, "Doors open" 4 PM Pacific
Attendance is free but a $25 donation is suggested.

All money raised through this event will support their work to transform the way end-of-life care is delivered and to empower each individual to live their final chapter of life according to their values, priorities and beliefs. The evening will be emceed by "America's psychologist" Dr. Jeff Gardere, and feature stirring stories, a jazz performance and more.
Learn more and register here. 
Truth, Lies and Propaganda: The Reality Game
Thursday, December 10, 6:30 – 7:45 PM

Dr. Samuel Woolley, author of The Reality Game: How the Next Wave of Technology Will Break the Truth, discusses how technology is—and likely will be—used to manipulate public opinion. He will educate and offer insights into how we can protect ourselves against future manipulation.
Register to receive the Zoom link. Presented free by KCLS. For more programs from KCLS, click here.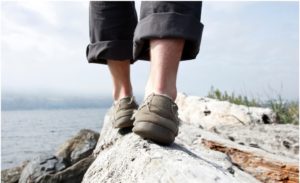 Improving Balance and Combatting Dizziness with PT
Tuesday, December 15, 1 – 2 PM
Presentation from Sean Tyler, DPT, SalmonBay Physical Therapy
Offered by Greenwood Senior Center

Do you feel unsteady on your feet, lack confidence walking on uneven surfaces or worry that you are at an increased risk of falling? Are you dizzy at times or have a diagnosis of vertigo? Join a discussion on the treatment of these issues through physical therapy. 
Email Ariel to register for this free event.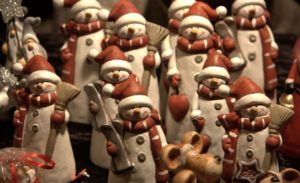 Annual Holiday Concert
Saturday, December 19, 1 – 2 PM
Offered by Greenwood Senior Center

Enjoy holiday music from the OK Chorale, solos from the Sing Along musicians, and singing by everyone. Make a $10 donation to be entered into a special raffle!
Email Ariel to register for this free event.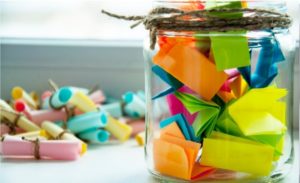 Make a Gratitude Jar
Tuesday, December 22, 1 – 2 PM,
Offered by Greenwood Senior Center

There is a lovely tradition of creating a decorated jar and then, every day, writing something you are grateful for on a slip of paper and putting it in the jar. At the end of the year, you can look back and start the next year in thankfulness. All supplies will be easily found in your own home.
Email Ariel to register for this free event.
Zoom Practice Sessions
Tuesdays through December 22, 9:30 – 10:30 AM
Free Virtual Event offered by Greenwood Senior Center

Join Office Manager Cassie McFadden for entry-level Zoom exploration and get comfortable with it at your own pace. 
Please email Cassie to register.
Free Online Intergenerational Arts Workshops from SilverKite Community Arts
Mondays, Fridays and Saturdays at 1:30 through December
The Gathering Place Online
A virtual early stage memory loss enrichment program
Tuesdays, 1 – 3 PM

A weekly virtual enrichment program for people with mild cognitive impairment (MCI) or early stage memory loss (ESML). Not a drop-in group but rather an ongoing commitment and is limited to 8 participants. The cost is $20 per session and scholarships are available. 
For more information, email or call Carin Mack, MSW, 206-230-0166.
Wallingford Senior Center Virtual Activities
All Zoom classes must be registered through these links:
Email with questions and to find about additional classes.
Virtual NEST Events Open to the Public
Northeast Seattle Together (NEST) is a non-profit grassroots community based on the national "virtual village model." They have an extensive list of local and national resources.
For more, download the NEST newsletter here.
Seattle Public Library Arts Access
Two free services for streaming videos available: Kanopy and Access
All you need is a library card. You can get one now, for digital access, at spl.org. On Kanopy you can stream 5 free programs a month. And Access is unlimited streaming.
Seattle Public Library's Lit Line
Call to have a poem, short story or historic news item read to you
If you dial the SPL Lit Line at 206-386-4656, any time, you can select to hear a poem or short story (in English or Spanish), or a historic Seattle news item, read by an SPL staffer.
Visit their website or read about it in the Seattle Times.
#ReadIndieForward
A pay-it-forward campaign to support indie bookstores & share the joys of reading

Like a chain letter for books, #ReadIndieForward, launched by Shelf Awareness and Sourcebooks, encourages readers to buy one book a week from indies for as many as eight to 10 weeks, send those books to family and friends, ask recipients to pay it forward with their friends and families—and mention the gift and bookstore on social media. 
Readers can purchase books directly from their favorite independent bookstore, indiebound.org or Bookshop.org, which has a special page for #ReadIndieForward.