It's Vacation Time!

No August Program at Horizon House
or Writing Group with Rebecca Crichton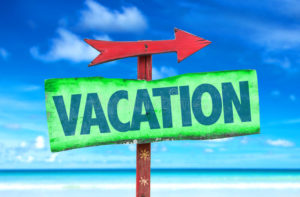 See you in September!
In the Larger Community
UW Do More, Feel Better Program for Depression

The University of Washington is recruiting individuals ages 60 and older who are experiencing depressive symptoms.
This 9-week program is based on research showing that increasing participation in pleasurable and rewarding activities can lead to improvement in depression symptoms. Sessions will take place at local Seattle senior centers:
If you are eligible to participate, you will receive $90 over the course of the program. Participation is limited. For more information, e-mail Mariah Corey, Graduate Research Assistant.
Art, Music & Wine at WCSC!
Thursday, August 1, 7 – 9 PM, Wallingford Community Senior Center
4649 Sunnyside Avenue N, Lower Level Good Shepherd Center
Experiment and play as you enjoy a glass of wine, sample hors d'oeuvres, and enjoy the instrumental jazz of the Michael Cosgrove Guitar Trio.
Colored pencils, watercolor pencils, chalk pastels, oil pastels — no formal teaching will be done, but there will be suggested quick projects and local artist Cynthia Yachtman to offer guidance. Treat yourself to a fun, relaxing evening!
$15 members, $20 public.
Advance registration appreciated. Click or call 206-461-7825.
Breaking White Silence
Thursdays, Aug. 1, 8, 15 & 22, 1:30 – 3 PM, Wallingford Community Senior Center
4649 Sunnyside Avenue N, Lower Level Good Shepherd Center
Join a safe setting to develop new understanding and skills for this important dialogue. Facilitated by Chava Monastersky, MSW and chaplain with a special interest in social justice and spirituality. It is recommended to have a copy of the book White Fragility—Why It's So Hard For White People To Talk About Racism by Robin DiAngelo for this discussion group.
Free. Advance registration required.
Painting with Soul
Sunday Workshop, 10 AM – 4 PM, August 4
224 NE 65th Street, Seattle
Come paint in a safe, judgment-free environment. Process painting requires no previous art experience and the emphasis is on the creative process rather than techniques or the product. A time to create with acceptance and curiosity, allowing the magic of your own inner source of creativity to find expression. Through mindful attention and beginner's mind, the subjects of the paintings emerge and become embodied.
Facilitated by Jan Bucy who has practiced Process Painting for 18 years and facilitated Process Arts Workshops since 2016. Jan is a practicing psychotherapist and has a deep love and respect for the creative process.
Workshop fee is $75. All materials provided. Send an email with questions or to register.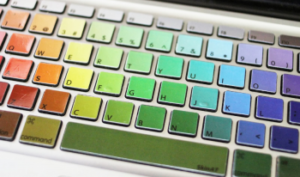 Computer Basics: Windows 10
Mondays, August 5, 12, 19 & 26, 2 – 3 PM, Greenwood Senior Center
525 N 85th Street, Seattle
Learn the basics of the newest version of Windows in this 4-part workshop. Find out how to navigate the desktop, use the start menu, and move files with Windows Explorer. We'll also talk about the basics of email and web browsers and how to use them to their full potential. With Samuel Wells, Founder of Keep Calm Seattle.
Advance registration required for this free series.
ORCA-To-Go & Hopelink Transportation Resources & Information
Tuesday, August 6, 9:30 – 11 AM, Wallingford Community Senior Center
4649 Sunnyside Avenue N, Lower Level Good Shepherd Center
Travel around Seattle with ease! Hopelink will share transportation resources while King County Metro provides full-service sales and assistance for ORCA Cards and other related fare products.
Free. Drop-ins are welcome!
Beyond Genealogy: Imagining Your Ancestors' Lives
Wednesday, August 7, 11 AM – Noon, Greenwood Senior Center
525 N 85th Street, Seattle

Your family tree gives you a long list of names, dates and places, but that doesn't really fill in the whole picture. What were your ancestors' lives really like? Come explore how you can use research, timelines and an exploration of history to create stories of what your own ancestors may have experienced. Feel free to bring any family tree information you have.
RSVP for this free event to 206-297-0875.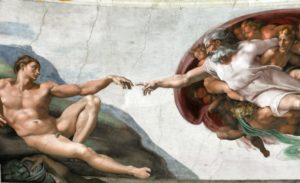 Michelangelo and the Art of the Sistine Chapel
Wednesday, August 7, 1 – 2 PM, Greenwood Senior Center
525 N 85th Street, Seattle
Painted by Michelangelo and considered by many art historians to be the pinnacle of achievement in Western Art, the Sistine Chapel is world-renowned. While familiar biblical characters comprise the bulk of the ceiling, Michelangelo also painted a wealth of other figures and scenes. Come learn about some familiar — and not so familiar — images from this artistic masterpiece.
Register for this free event by calling 206-297-0875.
Senior Day at Bellevue Farmer's Market
Thursday, August 8, 3 – 7 PM, Bellevue Presbyterian Church
1717 Bellevue Way NE
Join AARP Washington and the Bellevue Network on Aging for the Senior Day at the Market event. The Bellevue Farmer's market is held every Thursday from May to October, rain or shine. Each market day has a variety of vendors offering items such as: seasonal fruits & vegetables, cut flowers, fresh meats, one-of-a-kind artisanal goods, and tasty cuisine. This special Senior Day will also have information and resources for seniors.
Ample free parking available, 249/246 bus routes one block away. ADA accessible.
Classic Movies with Scarecrow Video: The King's Speech
Wednesday, August 21, 3:30 – 6 PM, Wallingford Community Senior Center
4649 Sunnyside Avenue N, Lower Level Good Shepherd Center
A chronicle of King George VI's efforts to overcome his nervous stammer with the assistance and unconventional methods of speech therapist Lionel Logue. Starring Colin Firth, Geoffrey Rush and Helena Bonham Carter. Winner of Academy Awards for Best Picture, Best Director, Best Actor and Best Original Screenplay.
Scarecrow Video, a local non-profit film organization, brings a monthly film series to WCSC. Each screening is followed by a discussion led by one of their resident film experts. Popcorn and drinks provided! $2 members; $4 public. Advance registration appreciated.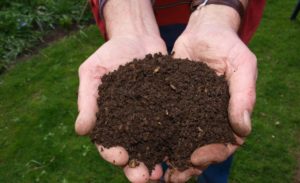 Recompose Talk
Thursday, August 22, 10 – 11 AM, Greenwood Senior Center
525 N 85th Street, Seattle
Washington State recently became the first in the nation to allow composting as an alternative to cremation and traditional burial. Katrina Spade, founder and CEO of benefit corporation Recompose, will talk about the benefits of the system she calls "recomposition" — which gently converts human remains into soil, so that we can nourish new life after we die. Come learn about this dramatically new, environmentally friendly option for death care.
RSVP for this free event to 206-297-0875.
UW Chamber Dance Company
Thursday, August 22, Noon – 1 PM, Meany Hall Room 206
UW Seattle Campus
In an intimate studio setting, attendees will have an up-close experience watching professional dancers perform. Hannah Wiley, the Chamber Dance Company's founding director, will provide historical context regarding this concert which includes artistically significant work from the past century. Wiley and the company members will be available to answer questions and discuss the choreography, production challenges, and importance of performing this historic and significant repertory.
Audience limited to 20. Fee $20. Click here to register.
Monthly Programs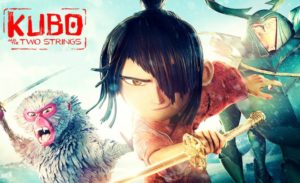 First Fridays Film: Kubo and the Two Strings
Friday, August 2, 1 – 2:30 PM, Greenwood Senior Center
525 N 85th Street, Seattle

A young boy named Kubo must locate a magical suit of armor worn by his late father in order to defeat a vengeful spirit from the past. Mesmerizing stop-motion from Portland animation studio Laika.
Enjoy this fun, animated movie in air-conditioned comfort for free.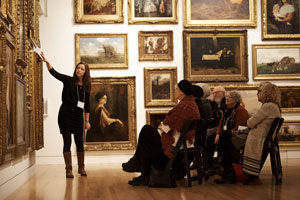 Here:Now Gallery Tour
Art Engagement for Adults Living with Dementia and Their Care Partners
2 – 3:30 PM on Tuesday, August 6 and Wednesday, August 28
Frye Art Museum, 704 Terry Avenue, Seattle
Each month, specially trained museum educators and gallery guides lead discussion-based tours highlighting works of art in the Frye galleries. Conversation creates an exchange of ideas without relying on short-term memory or recall of art historical information. Tours also include in-gallery activities.
Space is limited and registration is required. For more information or to register, email or call 206-432-8265.
Alzheimer's Café at the Frye
Monthly on Second Tuesdays: August 13, Frye Art Museum
704 Terry Avenue, Seattle
Pre-café Gallery Discussion: 2 PM

Alzheimer's Cafe 2:30

–

4 PM
A unique opportunity for people living with dementia, their care partners, family, and friends to enjoy companionship, good food, music, and fun in a relaxed environment. No registration is required and there is no cost, except for food and drink ordered from the menu.
Immediately before the Alzheimer's Café, visit a favorite painting or explore a new work of art in a gallery discussion tour led by a museum educator or gallery guide. For more information, contact Mary Jane Knecht, Manager, Creative Aging Programs, 206-432-8265 or mknecht@fryemuseum.org.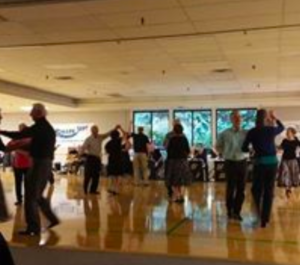 Sounds of Swing Big Band and Dance
1st, 3rd & 4th Tuesdays, 1 – 3 PM, North Bellevue Community Center
4063 148th Ave NE, Bellevue

Come listen to the Sound of Swing Band rehearse on the first, third and fourth Tuesday each month at the North Bellevue Community Center. This dementia-friendly opportunity can be enjoyed by all! On the second Tuesday bring your dancin' shoes. The band has a full session and dancing is encouraged for those who are so inclined. Just listening and watching those who are dancing is fine too. Lastly, rumor has it that there are a couple of great singers too on the second Tuesday each month.
Coffee and snack also offered. Cost: $3 on the second Tuesday for dancers. Rehearsals are free.
Contact the front desk at the North Bellevue Community Center if you have questions, 425.452.7681.
Sprouts and Seniors Playgroup
10 – 11 AM, Fourth Fridays: July 26, August 23
Greenwood Senior Center, 525 N 85th Street, Seattle
Older adults play a critical role in shaping the well-being of young children, and vice versa, but we live in a society that is increasingly segregated by age. The mutual benefits of intergenerational interaction between senior citizens and children have been abundantly researched and proven.
Please join us to promote these benefits in our community at the new Sprouts & Seniors Greenwood Playgroup. Children from birth to preschool age with their caregivers are encouraged to join. Greenwood Senior Center will have some toys, books, and puzzles available, but you are welcome to bring along favorite toys and books for children to share with the seniors during the playgroup.
RSVP by calling 206-297-0875.
Wisdom Cafés
Shoreline Library, 345 NE 175th Street, Shoreline
Conversations with Your Younger Self
Friday, July 26, 2 – 3:30 PM
If you could give a younger person a few nuggets of wisdom, what would they be? How would you advise them to live a happy, successful life? What do you know now that you didn't at twenty? Facilitated by NWCCA Executive Director Rebecca Crichton.

What Seems Risky to You?
Monday, August 19, 10:30 AM – Noon


What do you consider taking a risk? An adventure, a financial decision, an emotional risk, a physical risk like hiking or parachuting — converse and connect with others about this universal question in a facilitated small group discussion. Facilitated by NWCCA Board President Dori Gillam.



No registration is required for these free events.